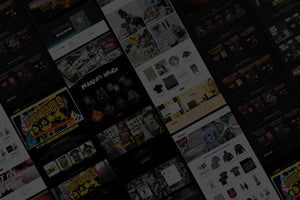 The 10 Best Apps for
Music Shopify stores
DO YOU HAVE AN APP YOU RECOMMEND FOR THAT?
This is probably the number one question we receive when working with clients. With thousands of apps in the Shopify App Store, things can become overwhelming and clients tend to install a bunch of apps into stores with no strategy to use them.
So we've decided to make a list of the 10 best apps for an artist/band Shopify store.
Each of the apps on this list fits a core store need. After testing quite a few apps under each category, we have rounded up what we believe are the best of breed. Enjoy!
music distribution tools
single music
Artist and record label tools built for Shopify. Turn your Shopify store into a distribution powerhouse with Soundscan, monetized video, digital pre-orders, bundling & more!
email & sms marketing
klaviyo
Control your customer data and their marketing journey. With powerful Email and SMS automation tools, Klaviyo helps you deliver the right message, to the right fan, at the right moment
UPSELL / CROSS SEL
candy rack
Can't sell album bundles anymore? Looking for a way to increase average order value? Candy Rack delivers AI-powered upsells and robust analytics with a clean user interface. Focus on your business and let the app do the sales boost.
BROWSER PUSH NOTIFICATIONS
pushowl
Sending browser-based push notifications allows personalized, relevant, and highly visible communication that shows directly on the screen of your fan's device (desktop or mobile).
FACEBOOK PIXEL & CATALOG
trackify
Need to place multiple pixels? Cannot sync to your Business Manager via the Shopify Facebook integration? Don't worry, Trackify is to the rescue! Easily install your Facebook Pixel and create & sync your Facebook Product Catalog.
THIRD-PARTY PRODUCT LINKING
outlink
Selling an exclusive vinyl variant on a retail partner's site? No problem! Outlink allows you to replace the 'Add to Cart' button with a custom Outlink button for any product. Seamlessly redirect fans to the URL of your choice.
CART RESTRICTIONS
ORDER LIMITS (MINMAXIFY)
Don't want your limited, hand-numbered vinyl bought in bulk and flipped?  This app makes it easy to define minimum and maximum product and cart limits for your store.
shipping insurance + tracking
ROUTE
Customer service can make or break your store's reputation. Turn one-time shoppers into loyal customers with Route's package tracking, order protection and customer engagement solutions.
DATA BACKUP & RESTORE
rewind
Did you know Shopify does not automatically back up you store data? Rewind maintains a continuous backup of your entire store. Meaning, in only a few clicks, you can restore your entire store - items, images, descriptions, blogs, themes, orders, pages, customer lists, and more!
USER DATA & PRIVACY COMPLIANCE
GDPR & CCPA
Selling to fans in Europe or California? Don't forget to make sure you take steps to remain GDPR and CCPA compliant.
DISCLAIMER: Crooked Youth is not offering any legal advice regarding GDPR/CCPA compliance by recommending this app.
DISCLOSURE: This page contains affiliate links. Crooked Youth may receive a commission from the app developer if you decide to install some of the above listed apps. We link these companies and their products because of their quality and not because of a commission.
NEED HELP WITH APP INSTALLATION AND STRATEGY? CONTACT US!